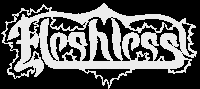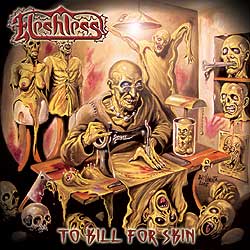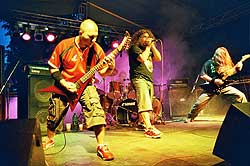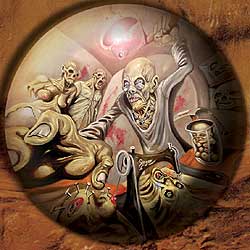 I´m very glad to introduce our new CD here… Once again we chose studio Shaark, which we were fully satisfied with, when we recorded our last album "Sensual Death Immitation" and I have to say, that this time we left the studio even more satisfied than two years ago. Especially the guitar sound is really brutal and it makes whole record more massive. After all, you´re going to hear it yourself early. So sit down, children, the fairytale starts!!!

1. "Intro" - we had a clear imagination to have something more musical than on our last albums and I guess we have it. No comments about that Michal wanted to record a fairytale tune.

2. "Contract of Blood" - I guess that this is one of the first songs we played on the Christmas Fest in Děčín last year. Lyrics was written by Jarda Kouba (OBSESSMENT, ex-FLESHLESS) and it´s about the price of oil, especially for the american families… a blood of their children in better case, the quired flag and state funeral in the worse.

3. "Sanguinica" - that´s the song that we composed as the last one, and during that time it changed from slow piece to a fast ride. Especially I like the Devourment medium of this song, where we use that brutal howling, which is nevertheless on lower level on the new album. Lyrics was written by Chymus and music was composed by Michal, with Luděk´s riff added.

4. "Ordo Verminosum" - Order of the Vermin… lyrics by Mr. ISACAARUM once again. Luděk´s composition… a super rocking beginning, turning into 100% Death metal riff with great drum massage… I think this song is a real Death metal stuff. … spiced with grinding inbreak in the middle of the song… ended up with Death metal inferno.

5. "The Final Cut" - Starting with vocals untypically for FLESHLESS, the phraseology proppered by Greg from WASTEFORM, I think it outcame very well. Michal provisionally called it – start M. Angel – but it´s misleading I think…. then the song turns into fast rhythm and later falls to such a slammy tirade, led by great melody, I guess that it will occupy people´s heads after listening "Final cut… too late for god… final cut… feel the flowing blood"… My original idea of this song was a way different than Michal´s, but I confess he was absolutely right…

6. "Lifedrain" - lyrics written by Chymus, untypical social critics for his style, but still great. One of the first songs written after SDI… It´s great that the band decided to keep the low howl the song begins with… A faster song generally, with slow slammy inbreaks… very nice to listen.

7. "In Vitro/Dead End" - "in the cellar / dead end" … the other song in addition to "Contract of Blood" to play live several times. Composed in faster vein, just like the previous song, with inbreak ala Dying Fetus. A great FLESHLESS solo added at the end. .. One of my most favourite songs.

8. "The Grudge Gear" - I would like to point out the slow, but still brutal interlude with great guitar riff and easy percussion. .. ended up with grinding FLESHLESS in the vein of our previous records.

9. "Amor In The Shards" - Another lyrics written by Chymus. The most technical composition on this CD, I guess. Interchanging of slow, fast and ultra-fast drums. A plenty of guitar moments, strumming etc. Not a song for easy listening, but still there are a lot of moments to keep in mind. As I say, it´s played in very technical way, rather 3/5/1 than 4/4 classics.

10. "To Kill For Skin" - a title song starting with a scream, one of the favourite song on the album. As fast as the sewing machine my grandfather made his human-skin clothes on. A great brutal inbreak… Gore lyrics all-in, and the cover layout responses to it. A Prophecy tirade in the middle, but a plenty of melodies also. The last composition on this record.

11. "Outro" - the goodbye all-in. The mourning atmosphere concludes this opus…

My thanks go to all of you sharing your time with me, and paying your attention to the record. The final feeling is all up to you. .. early I hope. Thanx to everyone who took a part in creation of this record!!!
Vláďa/FLESHLESS
november 2005