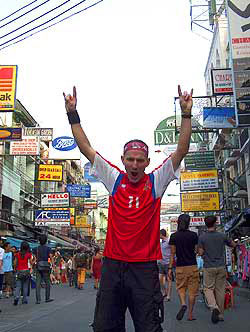 Satan is our Lord - Čurby in Bangkok

Čurby self made in Bangkok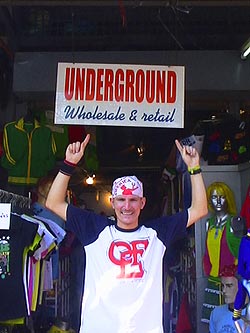 Underground forever!!!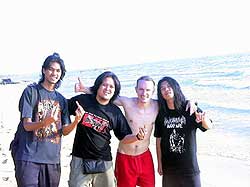 Po, Kia, Čurby and Boy - Thai beach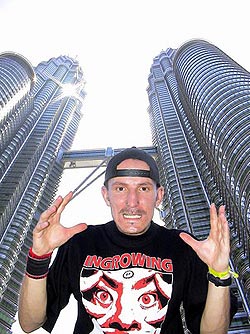 Čurby at PETRONAS Tower in KL, Malaysia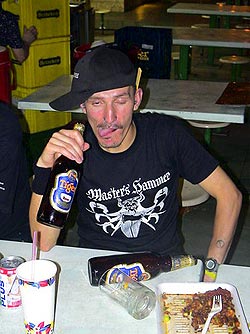 Born to be wild, Singapore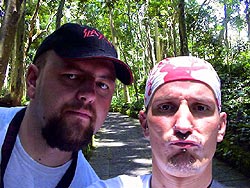 Monkey Forest in Bali - Vlakin and Čurby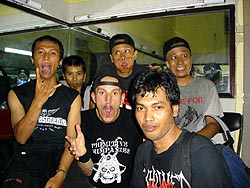 Čurby and EXTREME DECAY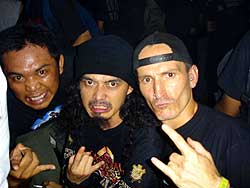 Couple of Devils - Man (Jasad) and Čurby







1. Hi Curby. How are you after the Ingrowing tour? Hopefully you are in good condition. As a tour manager, I ensure that you got a lot of story behind the scene .In general, what your feel about the Asian Sunris(c)e Raping tour? Is there anything's you feel like to share with all the reader concerning your trip from Europe to Asia and return back to your hometown? Good toilets? He he he.

Yeah! Hi Kia. Well, I'm fine but busy as hell. Our Asian tour was one of the best moments of my life, really. Great shows, great people almost everywhere. I could see that also on other side of our planet are die-hard fans of extreme music, there're plenty great extreme bands and I have seen there really huge enthusiasm for really extreme music, it reminds me our Czech scene 15 years ago when first bands could play in our country. And it was great time so for me it was like old good times are going back he.. he.. he.. and fuck yeah, toilets and showers are great here.
2. What's your perspective of bringing Ingrowing to tour in Asia? Some 'selling points' please. Why not other Obscene Productions band e.g. Isacaarum? What do you think of Asian grind core scene? Is it absolutely different with what you heard from friends until you come to Asia and see with your own eyes?

It's simply INGROWING's are just 4 (then on tour just 3) and ISACAARUM are really great live band too but they're 5 so it's more expensive for flights etc. and with FLESHLESS I already toured South and North America so this time it was INGROWING. Asian grind scene is really good, I mean lots of bands especially in Thailand and Indonesia are too much in brutal death metal so there's few grind bands (big cheers to Malang where is great grind/HC scene!!!), but Malaysia and Singapore are cool countries for grindcore. Johore Bahru is just great grind city with cool grind bands (DAMOKIS, DAY OF TOMMOROW, RECONSTRUCT, TOOLS OF THE TRADE) and great musicians, also NEGATION, MASS SEPARATION are cool bands, fast and intense!!! Chymus our layout man told me that I'll love Asia for food, for people, for everything and he was absolutely right!!! It's great continent and I really don't know why I didn't to visit nice places of South East Asia sooner. Anyway, I'll be back soon, I simply love it there!!!
3. How about the traveling expenses for Ingrowing for this Asian Sunris(c)e Raping tour? Do you pay all for them or they have to come up with their own expenses too? How's your deal with them regarding this tour? 1 month off is almost possible for us to touring over here.

Yes, I had to pay it in advance and it was not so cheap at all (like 800 euros each) but then when we came back guys of INGROWING gave me 50% of their flights expenses so it's cool for me. Of course they had vacation in their jobs, I had to close Obscene for month etc. etc. but it was really nice month and we'll never forget it, so all at all great deal for us he.. he.. he.. and surely I'm more than happy that we could be one of the first European bands that played Asia and spread grindcore music even so far away from our home!!!
4. Your view about Ingrowing Asian Sunris(c)e Raping tour. What you think on this? Do you satisfied with this tour from commence till the ending? How's their performance during the tour from your opinion? How about the supporting bands? Any bands you like to invite them to perform in the next Obscene Extreme Festival perhaps?

Cool, cool, cool. I really like all countries, I'll remember forever great shows in Bangkok, Johore Bahru, Singapore, Malang, Surabaya, Malang. And others too!! Just last show in Tangerang was piece of shit with really strange promoters and with 100 people on the stage during INGRO's show. I never seen something like this before, band needs some place left for their show!!! And my honest opinion, INGROWING was cool live as usually, they played all shows with full power, intense and fast!!! Support bands? I love DEMISOR, it's my dream to bring this band to Obscene Extreme festival!!! But there're much more great bands like LACERATE and DEATHGUY in Thailand, NEGATION, SPERMBLAST and all bands from Johore Bahru in Malaysia, DEMISOR in Singapore, PRIMITIVE CHIMPANZE (yeah!!!), SYSTEM ERROR in Malang, EXTREME DECAY in Surabaya, CRANIAL INCISORED in Yogdga, JASAD and SERINGAI in Bandung and more. I really think that your scene is strong and good enough, you just need to promote/distribute your records everywhere!!! Yes, I can imagine that Asian bands will play OEF!!! It's my dream!!!
5. From my open view, our Asian scene is still not fully exposed to the global underground scene. Still there are only few bands that can reach the world status. Demisor (Singapore) is a good example for grind core scene and Impiety (Singapore) for the black metal scene. But I am so sure they are working hard people(s) are doing a lot of homework's to improve the scene day after day, time after time. Your opinion about this?

Yes, good examples, but DEMISOR still didn't record any debut album and they're here from 1988 or something like that, they will be soon in Guiness book 'coz I don't know any other band that is so long time active but haven't even one album out he.. he.. he.. This is the main problem, Asian bands have lots of split EP's, demos, CDR etc. etc. but not real albums that are distributed and promoted worldwide. Anyway I have seen many distributors and labels in Asia and bands too so it's hope for your scene..
6. Your first step to Asia, what's your opinion about Asia? Hot? Hotter than your summer eh? How you find about the foods over here? Rice, rice and rice!!! Are you ok with the foods here? So pity you can't taste the tit bits e.g. cockroaches, grasshoppers etc in Thailand. It must be so delicious. ha ha.

Yeah, I arrived to Bangkok and airport there is really under great Air Condition so I felt like home, little bit hotter but when I crossed gate of airport I almost couldn't breathe or walk, it was one big hammer into my face he.. he.. he.. Foods, especially Thai food is no. 1 for me, but so spicy that I cried at my first food there. And also sticks are not so easy for us. Anyway in few days I really enjoyed every single food, but you're right every fuckin' day is here rice or noodles, noodles or rice and rice or noodles again so it's little bit tiresome. I really love potatoes so it's only shame for me. Yeah, I can't eat cockroaches etc. like vegan, but cave mens from
INGROWING tried it and only once when they were totally drunk he.. he.. he..
7. Your views about our monuments? Do you have it in Czech Republic too? Temples, old buildings etc. Asia is very strange for you in terms of the lifestyles, foods, cultures and almost everything. isn't it? What's your opinion from the experiences you gained during this Ingrowing tour? Any plan for Obscene Productions' next band to tour Asia?

Bangkok and Thailand is beautiful bro!!! All the temples, devils etc. are so nice!!! Of course we have lots of temples, castles etc. in Czech and even older but it's another architecture and lifestyle as you said. I really prefer history and old things than new countries like USA for example where you can't see older buildings than 200 years or so, Asia is really different, but we love it, we really like all the differences in lifestyle or culture, it was great experience of our life!!! And sure I want to go back with some of Obscene bands sooner or later!!!
8. For sure the conditions and situations for doing show over here in Asia are extremely different compare to the Europe. We are living in working class countries so we can't do the same things like you do / did in the Europe e.g. everyday there's a show for touring band(s) and also traveling from each places are quite far. Some views on each shows done for the Ingrowing Asian Sunris(c)e Raping tour?

Sure, you're right...it's big shame that people there can't and also don't want to pay for bands from Europe or USA. For example, show at Bali with very good PA, lights, stage, really nice open-air was free for everybody that went there by walk, they sold just parking ticket for half $ / each vehicle so it's pretty funny in my opinion. It's really good for your scene when more bands will tour around there, you'll get good contacts, great shows etc., but of course first people/fans have to understand that they have to support bands on tours with buying tickets for show, CD's, merchandise and help them little bit more with travel expenses and then everything will be easier for foreign bands.
9. What words have you learned during the tours? He he he. any bad words? I've never been to Czech Republic before. Can you tell us some pleasant and beautiful place that we can go .And tell us more about Czech Republic in general for us e.g. chicks.

Fuck, I really don't remember!! It's just 2 months ago but it's like 10 years. My life is right now too quick. Czech is nice place for life. I love it here, just winter time sucks and it's even worse every year. Prague is simply wonderful, old and beautiful city, same for Cesky Krumlov in South of Czech and what I really want to recommend for you to see ossuary in KUTNA HORA / SEDLEC. Check www.kostnice.cz, it's so morbid, dark and simply shocking place with thousands of skulls, bones of humans. I was there just 2 days ago with Dean of EXTREME NOISE TERROR and he was really surprised and shocked!!! And yeah, sure girls are here very beautiful and also intelligent so it's even better than usual chick as you said.

10. Can tell us in general about your usual and common life. Perhaps you can share or carve up with us others activities that you comprise other that doing and burden Obscene Productions. How long you work for your label in a day? How do you spend times with your girlfriend and kids? Are they understandings?

I run every fuckin' day as fast as I can. Now is really extremely busy time for me 'coz next month we'll start tour of BLOOD DUSTER and also it's just some weeks before Obscene Extreme 2005, then I have to finish Obscene Extreme 2004 DVD and also release CD's of CRIPPLE BASTARDS and ISACAARUM so I just work like idiot, something like 15 hours at minimum every day including Saturday and Sunday. Just 3 times a week I can go to play football and also sometimes I can go to cinema (Ring 2 is great!!!) and visit some festival or show. And of course I have to care about our kids, they're small so I have to wash them, wake up with them, making food for them, whatever. But I really feel not so good 'coz I want to be with them more than I'm. I know perfectly that I can't return any single day so that's why I feel bad, they need me now and I have to do something else. But summer time after BLOOD DUSTER I'll go with them all on month tour thru Poland, Estonia, Lithuania, Latvia, Finland, Sweden etc. so I really can't wait for it. I'll be with them 24 hours every day and also we'll visit my friends from GENERAL SURGERY, DISFEAR, ROTTENSOUND, BIRDFLESH etc. etc. so it's something great and understandings. (plans changed due cold weather in Scandinavia so we have been in South Of Europe and visited Giulio of CRIPPLE BASTARDS and friends in Serbia). Kids are too small to understand, they just want to play with me football or something else and also my girlfriend is tired too much last few weeks, I have been in Asia all month in February that this brutal Obscene work everyday.
11. Tell us a brief history about Obscene Production... And what was the idea to putting it out and exist in this earth? What did you do in the underground scene before giving your full energy and soul to Obscene Productions? Is it hard to live a life in Czech Republic or other countries in Europe?

Yeah, it's long, long time ago, I was tape trader in 87 or 88, then I started to buy Czech demos, support all fanclubs bands like ROOT, KRABATHOR, MORRIOR, MASTER'S HAMMER etc, started with MORBID REALITY zine and THE SUFFERING mag and of course I wanted to help our own scene as much as possible so sometimes in 93 or 94 I did Obscene prod. like mailorder/distribution then later I definitely released first record, it was back in may 95 spermatic white vinyl of Czech grind sickos HERMAPHRODIT. So I was big fan (and I still am) 'coz my passion for extreme music is simply extreme too and I wanted to help to bands as much as possible so that's why I did zine and distro + record label 'coz back in that times Czech bands couldn't release their records so my idea was to help them out, promote them etc. Hard life in Czech or Europe? In my opinion no. Of course we have to work but we have everything we want, we can travel, have kids, enjoy our life.
12. It has been almost a decade to runs Obscene Productions. Are you satisfied with your label's performance and the status now? What are the 'recipe's' behind it? Congratulations for the 10th years of existence!!! Any comments and how you get to maintain running labels as your full-time job? On doing a label productions' keep running, for sure we require a hard working people to make all jobs done to meet the date lines.

Yeah, just last weekend we had 10th anniversary show here in my home town and also I released few days ago label CD compilation and to be honest I almost cry when I listen this CD, 10 years is 10 years, it's lots of memories, lots of work etc. And yes, I'm satisfied what Obscene did for last 10 years, we're still pure underground label and we release very extreme stuff like at beginning so I suppose we're on our right way and of course we have to work hard, promote your bands, make tours for them etc. etc.
13. Obscene Productions in Asia. First of all I want to take this opportunity to give a grateful for your recognition for Obscene Production on the world underground map. When is the planning and idea come from? Are it the ideas come and approaches from Asia Sunris(c)e Raping Tour or the plan already encompass before the tour?

Yes, you know it bro!!! I really love Asia and that tour was simply amazing and of course I see there many great bands, fans with same passion for brutal and extreme music that I had (and still have) back in 90 so you just need help to build your own good scene and it's great that also Obscene can help you with this. I just wanted to find some really honest and good person and when I met you on that tour I knew almost in one second that you're my man. Even you smoke as hell he,he,he.
14. Obscene Productions Asia was born after the 10 years of existence!!! It's a positive thing to be heard for us. Some big labels have started doing this in the US and Europe but not Asia, any idea why this happened and do you think it's caused by RIP OFF problems or the business monopoly? Most of the Asian label which I noticed they're given a license to put out releases on tapes. Do you think that starting Obscene Productions Asia is some kind of trend? What's your hope on Obscene Productions Asia? Obscene Extreme Festival?

Yes, absolutely, it's 100% positive thing!!! I'm not really sure about others, but I don't like USA that much. I have there many friends and I would love to travel there but to get US visa is just worst nightmare, you have to lick asses all idiots on American embassy and please, please, please them. I don't want to feel like garbage so I don't want to ask them again and of course I really don't like that political power they have, their president is just funny cowboy and many things like that but maybe later we'll do also Obscene US, who knows, if fans will want our records and I'll find there honest people who can help me with it, it's not problem. You're right that many people from labels have bad experiences with Rip-off problems in Asia, I lost also some packs there but I believe in good people, I have seen great shows, full of fans and that's really positive thing and I believe that fans will support us!!! I just want to try with Obscene Asia, I want to release all our new records thru Obscene Asia too and also distribute all our previous stuff there and let's see what happens. I just want to bring good music and offer it for really fair prices and of course I would like to travel there with more bands and one time for example organizes also Obscene Extreme festival in Malaysia or Indonesia.
15. Uff.. enough questions!!! Last growls to the readers!!!

Thanx for your time, and thanx to fans for all their support during INGROWING tour!! Stay obscene and support our idea of Obscene Asia!!!

Čurby/obscene in may 2005